A BRIDGE SOMEWHERE – GOING BACK TO BASICS
admin2, 9 months ago
1
4 min

read
139
A BRIDGE SOMEWHERE – GOING BACK TO BASICS
About 23 years ago, comedians Rob Stitch and Tom Gleisner produced and starred in A River Somewhere, a brilliant series about fly-fishing – a passion that both of them shared. All told, they went to thirteen locations around the world to, "catch dinner and have it cooked in a local style." Today, as we seek to build a bridge somewhere to a place that is virus-free, hospitality is being forced to revert to the simplicity that Rob and Tom sought.
This new period we are in has brought about a lot of very thoughtful introspection about the new normal. These actually provide us with a roadmap as to where this bridge might lead us. We present two perspectives that complement each other well.
The first is from Monocle, a global affairs and lifestyle publication: "As streets go quiet and social isolation sets in, many of us are being forced to re-evaluate our lifestyles. Thoughtful community actions taken today will ensure that we re-emerge into a friendlier world tomorrow."  They quote from Ernst van der Hoeven, editor in chief of MacGuffin magazine who says, "You take away the distraction and you give yourself more time to see things."
Then, Grace Dent, one of the restaurant critics for The Guardian, adds to this when she wrote recently: "When the madness passes, which it will, because all things do, I hope we remember how the supermarket staff really served us. It's ironic how many of us slagged off these places [supermarkets] for decades, told the masses to avoid them: Let's all eat risottos of foraged acorns made with small-batch artisan butter from our bi-weekly farmers' market! And then this happened, and the Aldi car park is full of Audis jam-packed with Super Noodles. It's almost as if River Cottage never happened."
As we re-evaluate our lives and live a smaller, simpler existence, does this mean that we will go back to basics? The question, even though we asked it, is flawed: We are not going to go back to basics – we have never left the basics. In fact, we are discovering just how much we love the basics (however you want to define that in terms of F&B).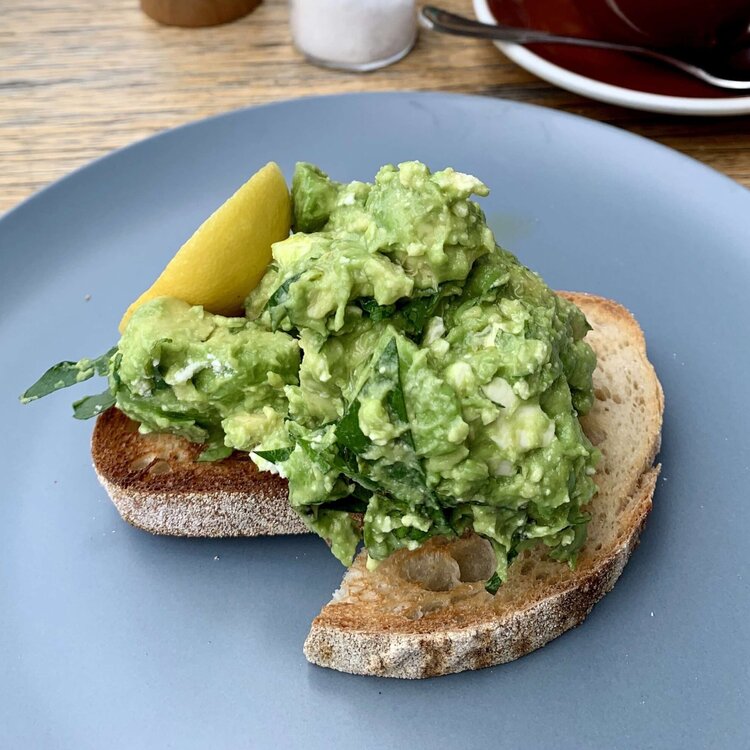 Avocado + Feta + Mixed Herbs at Batch Espresso
(Image via Zomato)
This is not to say that foraged acorns and any of the hatted restaurants were just a passing fancy. Far from it. Those were, are and will remain treasured. However, it is important to note that the vast majority of spending on F&B, up to 90%, has been spent on 'the basics'. This is what we love and are comfortable with; these are maybe the foods that we loved as children, certainly the foods that we want to share with family and friends. Juxtaposed with this familiarity, the restaurants that receive the most attention and the most hats are the ones that take us out of our comfort zone and offer us tastes, ingredients and service that go beyond the usual.
Yet, it is fascinating to see that even in these top restaurants, there is always something comfortable and familiar to fall back on. For example, just about every restaurant, no matter the cuisine, has steak on the menu. Cirrus, the fine dining seafood restaurant in Barangaroo, has two dishes available. In Melbourne, Flower Drum, one of Australia's most lauded Chinese restaurants, has Black Angus Eye Fillet and Wagyu Porterhouse on its menu. If you go into any upscale Melbourne café, you are assured of finding chilli scrambled eggs and, of course in some form, smashed avocado on toast.
The Grilled Black Angus Rib Eye at Cirrus Dining Restaurant – Barangaroo, Sydney
(Image via Open Table)
Right now, when we are looking at weeks or months going without most of the hospitality industry, we seem to be yearning for food and beverages that make us happy and comfortable. This certainly bodes well for the long term health of the F&B industry. The resilience of the shopping centre food court is evidence of how the basics have always been the bedrock on which retail has relied through difficult trading conditions in the past.
It is important to remember that the core of hospitality – the essence of being a good host – is about nothing more than providing simple pleasures. The sommelier Victoria James has put it very elegantly, "So why even go through this process [of asking the customer to inspect the wine]? I like to do it because I believe hospitality is about love, not logic. Of course, it would make more sense to skip this step. However, at this moment, the sommelier puts expertise on the back burner and humbly gives the guest the power."
It is this basic trait of graciousness that has always been at the heart of the F&B industry. It is what gives hospitality its power, to excite and to grow. Moreover, we believe this compassion and spirit is also going to be one of the fundamentals that will build our bridge to somewhere.
Related posts
Subscribe
* You will receive the latest news and updates on your favorite celebrities!
Proper Hand Washing Glitter Experiment for Kids!
UPDATE: You spoke and we listened! After learning of the negative environmental effects of traditional glitter we have updated the…
Fear Of Spiders, Snakes, Heights And Strangers Come From Parents, Not From Evolution
Where infants and pre-schoolers show fear of spiders, snakes and heights, it is usually related to the occurrence of the same…
Instagram
Instagram did not return a 200.